Welcome to the Zankyou no Terror Wiki

This wiki is dedicated to everything related to the anime series Zankyou no Terror, that anyone can edit. Please help by editing or adding articles and lessening the stubs. We currently have 3,175 edits to 68 articles and 315 images on this wiki. This wiki contains SPOILERS.
Navigation
Characters




Featured Episode
As Lisa recuperates at Nine and Twelve's place, Sphinx sets another bomb and posts another riddle, but things don't go as planned this time. Read more...
Story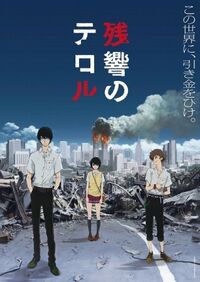 In an alternative version of present society, Tokyo has been decimated by a shocking terrorist attack, with the only hint to the identities of the culprits a bizarre video uploaded to the internet. The police, baffled by this cryptic clue, are powerless to stop the paranoia spreading across the population.
While the world searches for a criminal mastermind responsible for this tragedy, two mysterious children – children who shouldn't even exist – skilfully carry out their heinous plan. Cursed to walk through this world with the names Nine and Twelve, the two combine to form "Sphinx," a clandestine entity determined to wake the people up from their slumber – and pull the trigger on this world.