Although a pragmatic reading of the script suggests that the children at the Settlement are given numbers rather than names to depersonalize them as test subjects, there may be an alternate meaning to the particular number/names when viewed from the perspective of numerology.  A look at the number/name of the character as it relates to the number/lifepath of the same numeral reveals startling and intriguing parallels.
Nine
Those born on the Lifepath of 9 (or name of Nine) possess extreme influence, intensity, responsibility, loyalty, and service to
mankind - unless thwarted or twisted by pain.  Forgiveness is their lifelong lesson but it will take a lifetime to learn.  It is no surprise, then, that Nine's compassion is warped by his experiences and his life lesson short-circuited.  It is only at the very end, through his interaction with Lisa Mishima that he enjoys a "normal" life for a brief time.  It is his due.
Twelve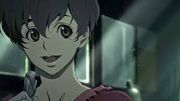 Those born on the Lifepath of 12 (or name of Twelve) possess extreme charisma, versatility, sociability and mental acuity.  They are highly intuitive about people and events, knowing what needs to be done and willing to sacrifice themselves to do it.  They love people and are lost without their favored companions which is ironic, since their lifelong lesson is self-sufficiency.  For Twelve, this is only accomplished through negation.
Five
Those born on the Lifepath of 5 (or name of Five) possess an unconventional view of the world, resourcefulness, adaptability and competitiveness.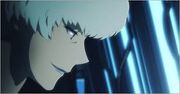 They are the harbingers of change, often possessing a vivacious attitude and a curious mind that can be quite opportunistic.  Since they only learn through immediate experience, they seek freedom to act and indulge their every whim as they seek new adventures.